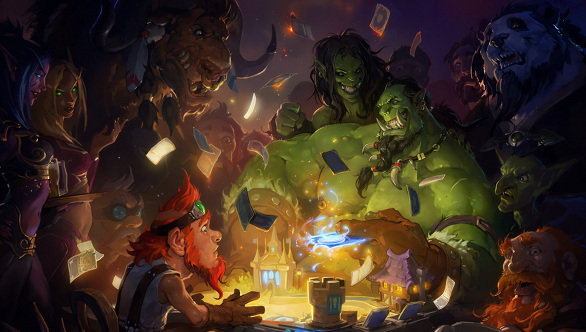 Hearthstone: Heroes of Warcraft
Who, What, Where?

In case you somehow didn't hear, Hearthstone is a free to play digital strategy card game that was recently announced at PAX East. You can watch the announcement trailer right here.

My History of Warcraft

I try to not get caught up in the hype or anticipation of new games, it can lead to some rather poor decision making. However having such a history with the Warcraft universe it's very hard for an announcement like this to not have an impact. Hearthstone just hit me in that spot in your gut that reminds you of all the good times that you've had in Warcraft.

What I miss from quitting World of Warcraft is the camaraderie of the guild I was a part of and the cooperation of the raiding that we did. If even a little of that feeling and experience can be had again, when playing Hearthstone, I will be most pleased.

Hope of Hearthstone

Do I play TCGs or CCGs? Not at all. I did dabble with some "Magic the Gathering: Duels of the Planeswalkers 2013" for iPad? which I enjoyed for a time. However it had technical issues, combined with next to zero technical support and complaints that were never answered, I just gave up on it. They did eventually fix many problems, but by that time I did not actually care anymore. I appreciated Magics design, and the great work that went into the art of the cards, but I was not happy with the way that Wizards of the Coast treated its electronic consumers.

I'm looking for new gaming experiences now, Many "AAA" studios don't seem to want to be in the business of making new innovative and exciting games, instead preferring to bank on their "safe bets". My hope is that Hearthstone will be one of those new gaming experiences for me. But even more than that I hope that Hearthstone will be a way to enjoy all my old Warcraft memories, lore and friends.

Nuts and Bolts

How is Hearthstone going to work? Well lets let Blizzards Team 5 tell us.

You certainly can't say that it doesn't have that ye olde Warcraft feel, it's looking very polished in its pre-beta state.

Blizzard produces some great artwork, I do wish that it could get a little bit more of a centre stage on the cards than what the current portrait miniatures design allow. However the way that characters can pop out of the cards when they are summoned to the field is quite slick so I have somewhat mixed feelings about that. Perhaps an artwork section to "Hearthstone" to show off the skills of their artists is what we really need.

Making use of the digital only format to allow card enhancement is an inspired move that should allow players a greater investment, and more importantly greater fun, into building their decks, beyond the simple "acquire more cards" philosophy that most TCG or CCG games that I've looked at have. I can't wait to see how this will pan out, especially if it helps to negate the "best builds" syndrome that we often have inflicted upon us.

That said, the ever present endorphin drenched collector spirit within us gamers always seeks to be rewarded with receiving rare and powerful items.

A Not So Small Note

Reading through the Hearthstone forums, the one that remained firmly stuck in my mind after reading the many questions, speculations and official Blizzard answers was that the PC / Mac version of Hearthstone may not be initially linked with the iPad? version due to the technical difficulties involved. Something which I think would be a mistake.

Having an iPad? myself, the flexibility of being able to play on both platforms with a single account is what I both desire and would expect to happen, especially with the way that Battle.net? integration has become the norm with Blizzard products. I am a programmer by trade, so I fully appreciate the technical difficulties that can crop up in seemingly straightforward and not so straightforward tasks.

It's really a matter of customer expectations. It would be a shame if the iPad? version become a poor cousin to the PC / Mac version. My most sincere condolences to the hard working Team 5 developers!

Final Thoughts

I actually couldn't sign up for the Beta fast enough. In a world of card games that I have never played Hearthstone has caught my attention with its style and its innovations for the genre. Lets hope it can live up to the expectations that I'm trying hard to not have.

I will certainly be keeping up to date with developments as they happen and hope to see some old friends in the beta...

Edited // Monday May 13 13:02 2013 // Updated title image. ///